Estimated delivery in 3 days
The estimated time of delivery will be 3 business days from the time of purchase.
Enjoy fast and free shipping to everywhere within the United States.
If you are not satisfied with the purchase, send it back to us for a refund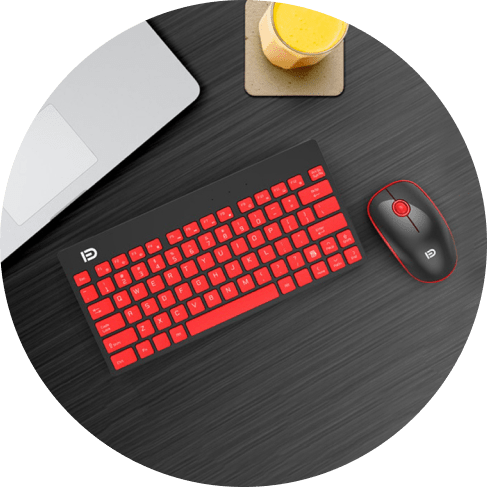 A bright addition to the desk
Don't search for the mouse and a keyboard that'll look somewhat similar. This set is indeed beautiful, it looks organic, and it works just as well. The perfect gift for any computer user.
The cutest couple
Intelligent design
The glossy top of the mouse gives you a firm grip, and the clicks are barely audible. The keyboard can be adjusted by height, and its bright buttons are soft and stand out.
No headaches about connecting
The keyboard and the mouse work together with one receiver. Don't ever deal with long wires or having to adjust the Bluetooth connection. Versatile and effortless – plug in and work!
Working got a bit simpler
Productivity is directly connected to how comfortable the worker is. That includes the comfort of using the tools given. This set will make the working not only significantly simpler, but much more enjoyable and efficient. Delight yourself or someone else! Any computer user will find a good use for the set.
Red Keyboard & Mouse Set Reviews
Only logged in customers who have purchased this product may leave a review.