Estimated delivery in 3 days
The estimated time of delivery will be 3 business days from the time of purchase.
Enjoy fast and free shipping to everywhere within the United States.
If you are not satisfied with the purchase, send it back to us for a refund
Reach-and-grab convenience
In one stylish bag
Make finding essentials while behind the wheel a tad easier (and much safer) with this Rhinestone Backseat Handbag Holder.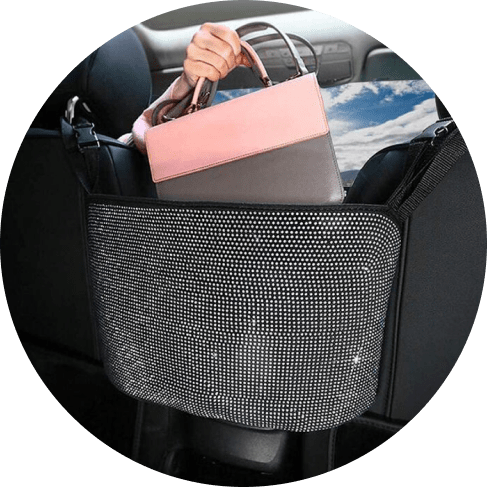 No spraining
No swerving
Straps on easily
Two adjustable buckles allow you to hang this handbag from both of your front-seat headrests.
A bedazzling look
The rich rhinestone look all over the exterior adds a touch of shine to your vehicle.
Stay in control
Be focused along the wheel and just reach where your center console is to retrieve your bag or something from inside your purse.
Hold all your stuff
Our Rhinestone Backseat Handbag Holder supports up to 50 pounds and measures 11" x 14.9" x 4.7" (L x W x D) to store just about any handbag.
A safer way to be
on the go
Reduce the risk of accidents and stop distracted driving by implementing this fuss-free Rhinestone Backseat Handbag Holder for a glamorous touch that provides essential function.
Rhinestone Backseat Handbag Holder Reviews
Only logged in customers who have purchased this product may leave a review.